No more fossil fuels
Fossil fuels - Global warming - Climate change
Go to Fossil fuels
Fossil fuels
Burning fossil fuels releases carbon dioxide into the atmosphere.
Go to Global warming
Global warming
Carbon dioxide in the atmosphere acts like a blanket around the Earth and causes the average global temperature to rise.
Go to Climate change
Climate change
Amongst other effects, warming of the Earth causes land ice to melt causing sea levels to rise, with catastrophic consequences.
Climate change

the data
The scientific
data & insight on
climate change
is undeniable
In the past two hundred years or so, since the beginning of the industrial revolution, the concentration of carbon dioxide in the atmosphere has been raised from 300 parts per million to nearly 400 parts per million.

This is unprecedented for the Earth in recent geological times.

In the past 400,000 years the maximum concentration of carbon dioxide in the atmosphere was 300 parts per million, and the sea level was 5 metres higher than now.
Be informed and engaged
We all need to understand climate change in order to demand the social and political changes that are required, in our individual lives and in the policies of our governments. We can not leave it to the politicians, with their short-termism and vested interests. Also, we need to give them our informed support for the difficult decisions that are required. This is the radical change that is required by all of us, if we are to prevent the catastrophic consequences of climate change.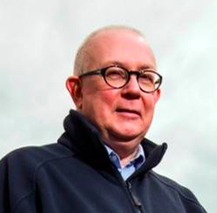 Bob Carnell
Businessman & Scientist
Having gained a B.Sc. (Honors) degree in Physics from Bristol University in the UK, Bob has spent three decades in a successful commercial career in computing, telecoms and renewable energy generation.

This provides a range of knowledge and expertise that is very useful in understanding climate change and what can be done about it, especially in a practical way.
One of the most critical actions is for each of us to write to our political representatives to demand that they engage in resolving this most vital of challenges on our behalf, because such political will is needed above anything else.

Also, it would be useful if each community organised a meeting, at least once a year, for political representatives to present the progress to date.
Fossil fuels - the economics and politics of finite resources